A new arched bridge was built here around 1895, but it could not cope with the traffic, when the Rozengracht was also filled in creating an exit road to Amsterdam West. Both horse tram and electric trams would have difficulty with an arch bridge. Piet Kramer already made a design for the bridge in the Amsterdam School style in 1921, but because of the price increases as a result of the First World War, it was not possible to start installing a new bridge until February 1925. The bridge has a number of characteristics of Kramer's bridges, such as the ornamental ironwork in the balustrades and decorations on the natural stone pylons. Until September 1, 1957, three-rail track for the tram was in use here, standard gauge for the city ​​tram, and meter gauge for the Amsterdam – Zandvoort tram line, and it wasn't until the 1970's the current tramlines were in place.
De Herengracht gezien in noordelijke richting naar de
Warmoesbrug
(Brug 22) voor de Warmoesgracht
Links Herengracht 208, 206, 204 en lager (v.l.n.r.). Rechts Herengracht 231, 227, 225 en lager (v.r.n.l.).
archief.amsterdam
Below you can see video (in dutch) about the renewing of the bridge.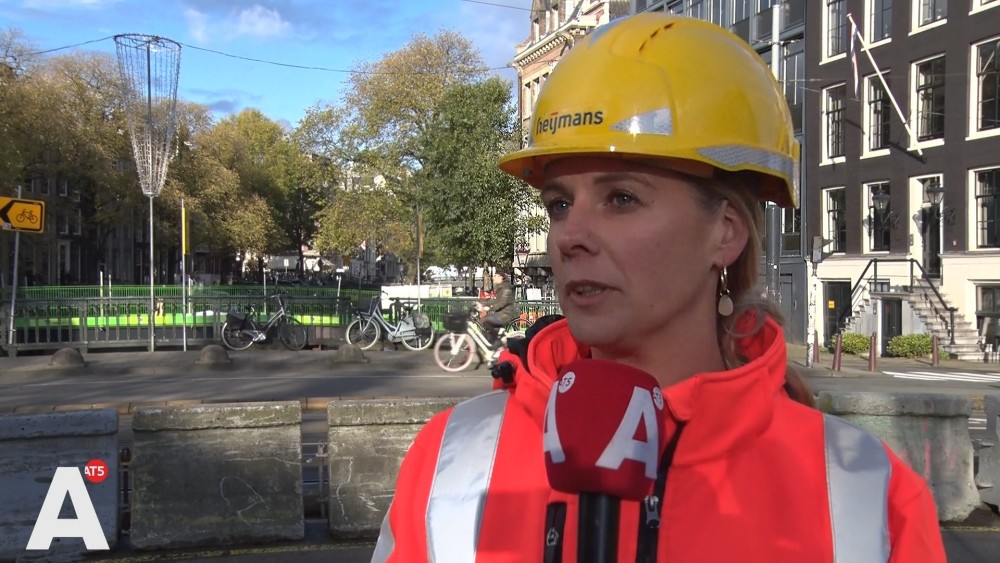 De Warmoesbrug wordt vernieuwd: "Ik moet omrijden, dat kost vaak heel veel tijd"
Er wordt aan de Warmoesbrug gewerkt. Op dit moment worden de kabels en leidingen van de brug omgelegd via een tijdelijke hulpbrug. De makers van het AT5-programma Het Verkeer gaan langs bij Omgevingsmanager Karin van Zwam om te vragen hoe het gaat.
www.at5.nl